GUTEmission means as much as "Good mission" and starts an intercultural centre for Berlin by refugees for refugees.
We connect migrants and refugees from different countries with Berliners and support them to integrate successfully into our society.
Since March 2022, we have successfully connected 4,500 people in more than 55 events through the following formats and built a sustainable network of supporters:
Encounter formats such as cooking workshops, cooking traditional dishes
play and language cafés
Educational workshops
counselling and information services
cultural events
The intercultural team benefits from its own migration and refugee experiences.
GUTEmission supports refugees with arriving successfully in their new cultural environment and builds bridges to companies and organisations. The concept of the intercultural centre is geared towards scaling, so that the wealth of experience can be used in the long term in different regions and in future crises.
The founders of the GUTEmission association behind the project: Nataliia Kovalenko, Marina Soroka, Natalia Rybalko, Anastasiya Zagorni, Darya Korotenko, Yuliya Levit and Ana Lichtwer. They have developed, tested and further elaborated formats within the framework of the "Café Ukraine" of the Berliner Stadtmission at the House of Statistics and through the PHINEO Impact Startup Programme Network, among others.
Berlin needs an intercultural lighthouse: Join us and support us
MEDIA ECHO: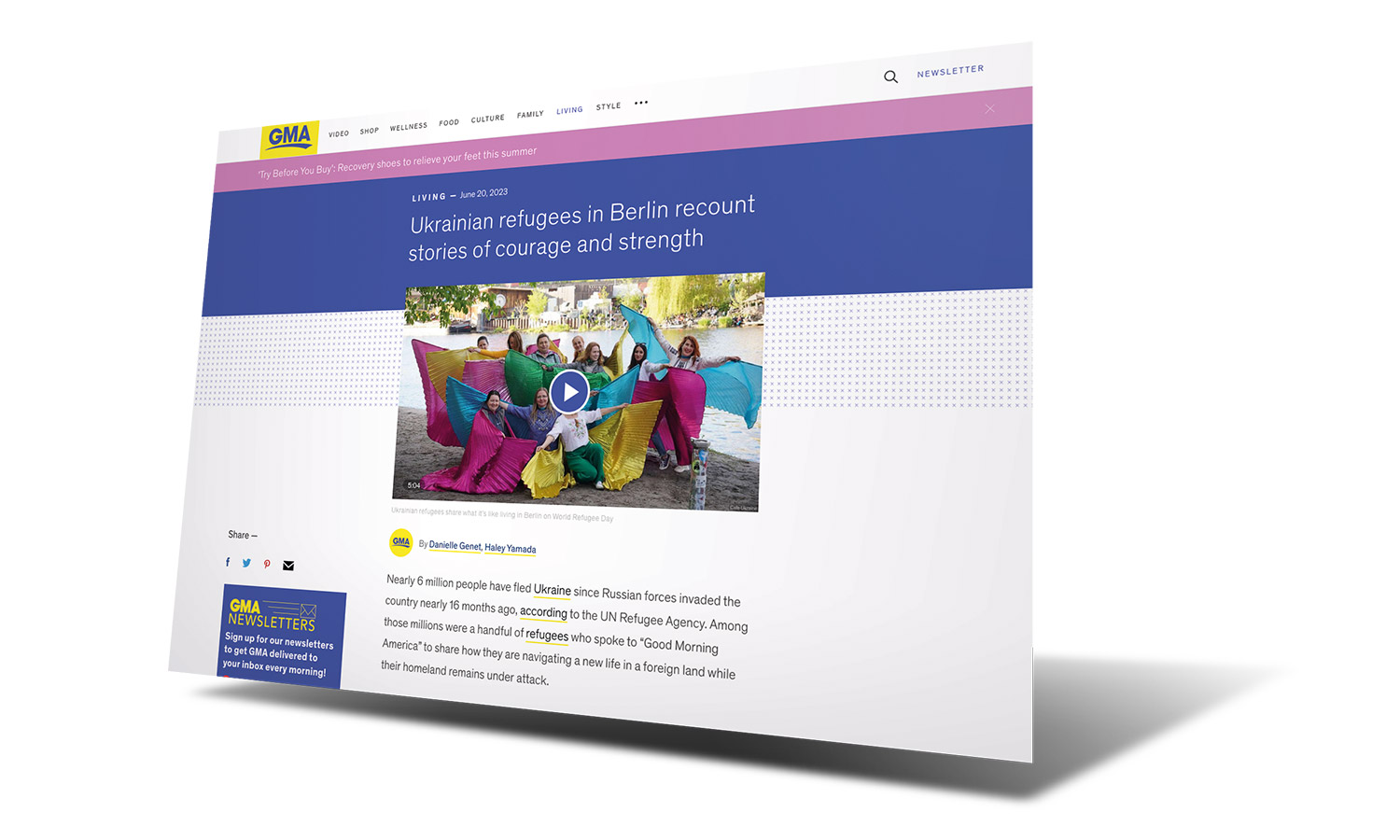 Magazine Good Morning America GMA 06/20/2023 (english with video)
https://www.goodmorningamerica.com/living/story/ukrainian-refugees-berlin-recount-stories-courage-strength-100204369
Newspaper Berliner Zeitung BZ 02/24/2023 (german):
https://www.bz-berlin.de/berlin/ukraine-fluechtlinge-und-ihr-neues-leben-in-berlin
TV Station "WDR For You" TV magazine for ukrainian refugees 07/18/2022 (video, german and ukrainian) – note they uploaded this video to facebook:
https://www.facebook.com/wdrforyou.fuerukrainerindeutschland/videos/349739924025453/
TV station RBB24 "panorama" magazine and radiostation Radioeins 12/ 05/ 2022 (german)
https://www.rbb24.de/panorama/beitrag/2022/11/interview-tag-des-ehrenamts-cafe-ukraine-berlin.html
Magazine THE GOOD ONES 08/06/2022 (video, english)
https://www.youtube.com/watch?v=5IFHCvuZ_WI

Radio Deutschlandfunk Kultur 04.2022
(german with audio on their fashion upcycling aspekt):
https://www.deutschlandfunkkultur.de/ukrainer-in-berlin-modedesignerinnen-im-haus-der-statistik-dlf-kultur-b29f3676-100.html