Elizaveta is a talented young photographer from Kyiv and was part of the first wave of war refugees. Now she uses her art to raise awareness for Ukraine and to raise money for humanitarian purposes
'I am Yelyzaveta Bohachova (Elizaveta Bogachova) – a Ukrainian born & raised. I was lucky enough that I was a student in the last year of a photography course at the University in Berlin, and I had a vague idea of where to go. But still, I was in Ukraine and faced the war in its first days, so this topic is an open wound for me. I was running away, grabbing my underage sister, and packing the most unuseful things while fighting to bring our parents with us. Chaos is wrapped in despair when beloved ones stay behind. That was a fragment of my experience.  After the almost seven-day trip to Berlin, observing the vast flood of refugees, I realised that belongings reflect and represent personalities even better than portraits. That's how the idea of "Take Away" came to my mind.'

VIDEO: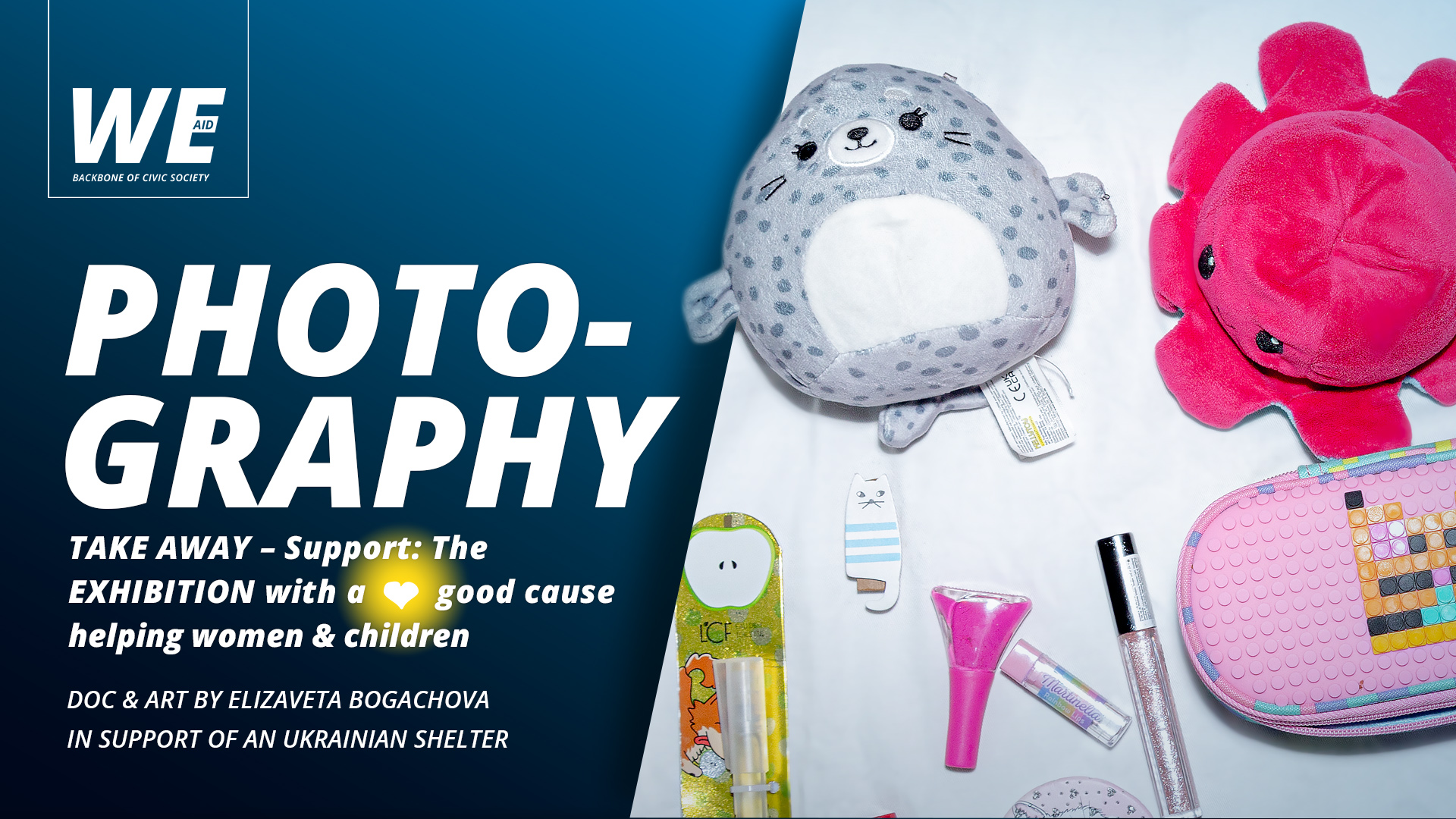 "Take Away", March 20, 2022 is still an ongoing project of interviews and photographic documentation of «true» belongings taken by Ukrainian refugees while fleeing.  It contains more than 50 images. It was exhibited four times in Berlin.
 "What will you take with you when your life is under death threat? What will you think first? Are you a meticulous and cooled head? Will you take just essentials? Or are you at a loss and grab first-seen things? You don't need to see a face to recognise a personality in front of you. Just have a look at things which people took with them while fleeing. Now ask yourself – What does matter to YOU?"
My main goal is to keep awareness and bring to light stories of victims. But, unfortunately, the war still goes on. And it is natural for people to get used to even the most horrible things, but it is vital to keep the attention and be human until the last. Therefore, my sincere desire is to organise as many charity events as possible to provide help to our fellows back in Motherland through refugees' stories. Through selling reprints and just continuously keep dragging attention not to let to forget society and each individual.
The most traumatised age category, in my opinion, is kids. They start living, all the bubbly dreams and fun of childhood are broken forever, the war brings unhealing trauma, and there is no way back to light and easy childhood. To stab and turn, children with disabilities are one of the most fragile groups. They, as no one, need support, especially in such dreadful times. We should try to provide as many possibilities to treat, to provide vital essentials and at least a small joys.
"Take Away" will have another exhibition, starting on February 24th, the anniversary of the Russian Invasion. All proceeds of the featured images will be donated to the organization "Time of kindness and mercy" (Час добра та милосердя) in Ivano-Frankivsk
"Time of Kindness and Mercy" takes care of vulnerable sections of the population, and during the state of war caused by Russia's military aggression against Ukraine, it also provides assistance to IDPs (internally displaced persons – women with children) from the eastern regions of Ukraine who arrived in Ivano-Frankivsk. It features a shelter, a "social shop" and a mother and child home. A second mother and child home that was to be opened serves now as a "wartime shelter"
Time of kindness and mercy also carry out targeted deliveries to families affected by the war, deliver humanitarian aid to district offices of the Service for Children and Families and delivers necessities to remote villages and regions of Ukraine that have been successfully recaptured from the occupiers.
"We do everything to improve the living conditions of those who have experienced great grief and suffering in their lives. We strive to change not only their everyday life, but we also want to show our wards that there is another life, filled with respect, love, peace, wonderful relationships, where every mother feels like a mother and has the opportunity to be with her child all the time , to care for and love her, we teach them to integrate into society."
To continue their activities, the organization is constantly in need of financial and material support.