Massive power outages in Ukraine following heavy Russian shelling
Attacks on Ukraine's energy infrastructure, including power plants and heating plants, have denied millions of people access to heat, electricity, and water. Energy infrastructure is under constant fire from Russian missiles and drones from the capital Kyiv in the north to Dnipro in central Ukraine and Odessa in the south. The shutdown of all four nuclear power plants at the end of November 2022 in Rivne, South Ukraine, and Khmelnytsky NPPs, emergency protection was triggered, working without feeding power into the grid. Energy infrastructure in Ukraine can not be recovered for many years to come.
The UA2P project has set the goal of providing a decentralised power supply at neuralgic points of critical civilian infrastructure as quickly as possible, in order to ensure children (and adults) to survive the winter of 2023 in Ukraine. The focus will be on rural regions, especially small and medium-sized towns, which have hardly received any aid so far and therefore have the greatest need.
The concept of decentralised and flexible power islands as shown below, is based on 4 core building blocks developed by UA2P partner "betteries", a technology start-up from Berlin, and manufactured together with its automotive partner Renault.
1. Modular and mobile battery storage
2. A central charging station for the modular battery storage systems
3. Mobile alternating current systems
4. Remote monitoring of the system components
Project partners supervise the delivered systems directly on site, ensure smooth functioning and documentation. The first systems have been in place at the Netishyn hospital since before Christmas 2022 and are in place to secure the operation of medical equipment (find out more in the video below).
Learn more:
In addition to numerous private donations, the initiative is supported within the framework of "Winterhilfe" by the RTL foundation – Wir helfen Kindern e.V.

MILESTONE as of July 2023: Meanwhile 100 units successful fundraised and delivered. With more to come. THANK YOU to anybody making this step by step and cent by cent united thanks to your generosity possible: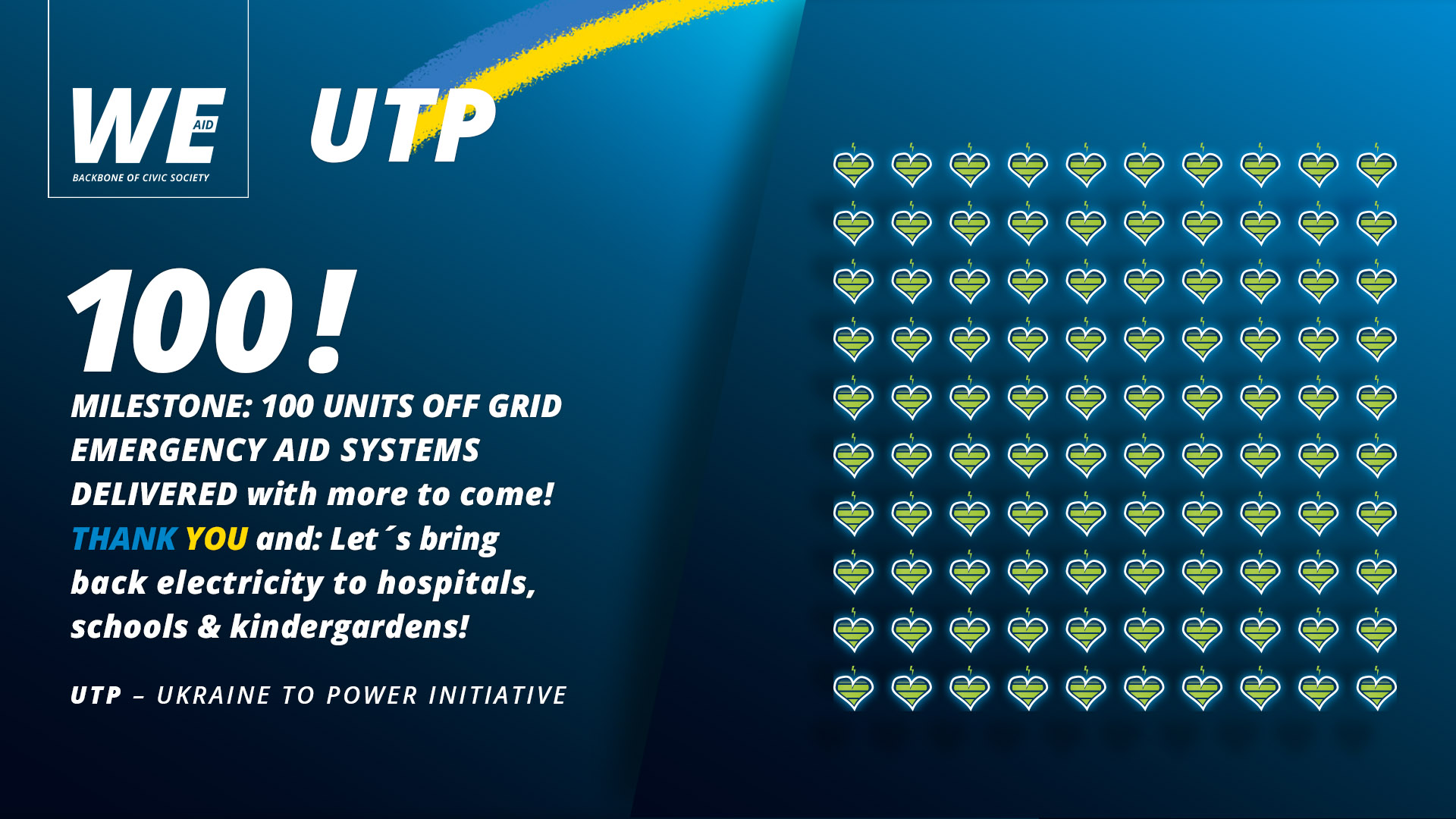 Donate for WE AID´s mission as backbone, if you like what we do.