WATER and WATER AVAILABILITY is part of the global goals. Anywhere on earth for every human beeing. THIS time GOAL 6: CLEAN WATER AND SANITATION is topic of our good news, because: YOU DONATED 108 tons of clean drinking water plus again hundreds of food parcels:
Another round of assistance has become possible thanks to the support of WE AID, and we'd like to share a video from the Railway Workers Union of #Ukraine. Here, they are delivering water and food to railway workers in the front-line regions.
Water, especially drinking water, has become an incredibly valuable resource after the explosion at the Kakhovka Power Plant this summer, which triggered an environmental and humanitarian catastrophe in southern Ukraine. And in Mykolaiv there has been no drinking water in the taps for nearly a year. Due to Russian shelling, the water pipeline was destroyed, and now only technical water is delivered to homes, which, unfortunately, is salty and corrodes the pipes, leading to accidents.
Railway workers from Kryvyi Rih, Nikopol, Apostolove, Pyatikhatki, Kherson, Mykolaiv, and employees of the Dnipro underground received eight tons of drinking water and 300 packages of food aid.
The employees of JSC Ukrainian Railway themselves collected, purchased, packed, shipped, and distributed the aid to the railway workers.
This support has become possible thanks to the financial backing of Bane NOR and the Global Ukraine Rail Task Force, facilitated by WE AID.
We extend our heartfelt thanks to our friends and partners for supporting Ukrzaliznytsia!
Watch a video about this on our Linkedin: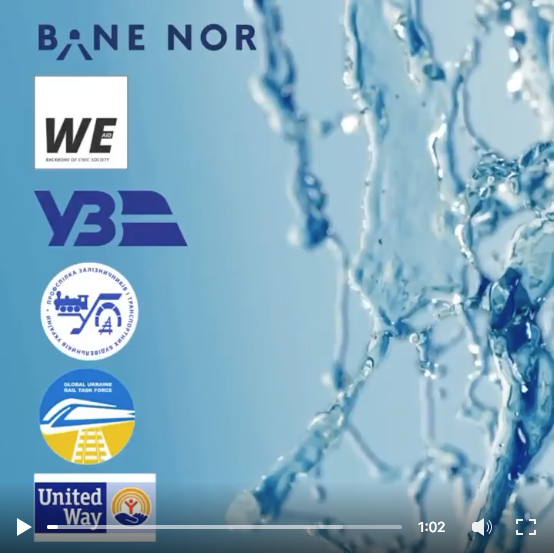 ⏯ https://www.linkedin.com/feed/update/urn:li:activity:7122158831719047168/

A sincere THANK YOU to anybody contributing and making this possible. Anyone can support the initiative 24/7 via their WE AID page at
💛➡️ https://www.WE-AID.org/en/initiatives/allrail-support-ukraine-rail-task-force/
SDG GOAL 2: ZERO HUNGER & SDG 6: CLEAN WATER AND SANITATION
#HumanitarianAid #Ukraine #WEAID #RailwayWorkers